Crack encrypted hash with hashcat. How to Crack md5/sha1 Hash Using Hashcat GUI on Windows « Null Byte :: WonderHowTo 2019-03-24
Crack encrypted hash with hashcat
Rating: 7,9/10

1232

reviews
InfoSexy: How to use Hashcat to Crack Passwords in Ubuntu 18.04
You will need the Python bindings from for the script to work. This particular mask will attempt to bruteforce an 8 character password, where the first character? Getting hashes: First of all, we need to get our hashes. It is effectively a brute-force on user specified character sets. The file just contains masks, and it might looks like this:? This is great, because it allows you to try many masks automatically one right after the other. On the latest update of the tool there was a significant addition that did not get the buzz that it should have created. Consider the following command: hashcat64. Here you can see, wlan0 is your wireless interface and it tells that it supports 802.
Next
Cracking Java Keystores with Hashcat
Hashcat comes with some pregenerated masks, which can be found in the masks directory. It should be removed from production systems. It remains suitable for other non-cryptographic purposes, for example for determining the partition for a particular key in a partitioned database. In a real world scenario, we might not know any information, but when we do, we can use it to our advantage is massively reduce the time needed to crack the hash. Lets output the found hashes to a new file called found.
Next
Crack WPA/WPA2
How to Crack Decrypt Hash of Almost Any Type. We can optimize our attack even more if you know that specific characters will be in a certain place. If I'm right, the hash of the password is the basic to crack it. It contains a hard-coded list of files, like a white list, that should have their contents preserved, Manifest. Once we can grab the hash, the next step becomes one of finding an effective and efficient way of cracking it. Visit them and feel free to browse their website to understand more about hashes.
Next
Cracking MD5, phpBB, MySQL and SHA1 passwords with Hashcat on Kali Linux
Running through all of these characters will take some time, but it will recover another password. After that completes, hashcat will run the next mask, and so on… Hybrid attack A hybrid attack combines a dictionary attack and a mask attack. I'm very new to cracking, but I am semi-literate when it comes to technology. This filesystem is to be used when specifying a backup directory for. First of all, you will need a password protected document to extract a hash that needs to be cracked. Related Subreddits: , , Security Advisories , , , Download Linux This Subreddit is not. Before you run the attack you need a word list.
Next
How to Crack md5/sha1 Hash Using Hashcat GUI on Windows « Null Byte :: WonderHowTo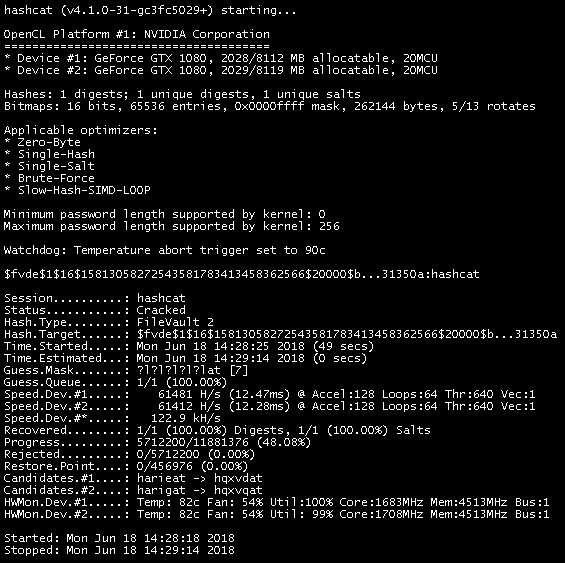 Most of the things are covered in manuals and wiki available in. I have which dumps the BackupKeyBag. Luks linux unified key system , and dm-crypt are the standard that linux, and many others use for doing whole disk encryption. Each of these will help us to break passwords that have been made more complex to avoid dictionary attacks. Naive-hashcat uses various dictionary, rule, combination, and mask smart brute-force attacks and it can take days or even months to run against mid-strength passwords.
Next
AES
Similarly, you can use the -j option to add characters to the left of the second dictionary. This is a very bad idea for a number of reasons. Hashcat comes with multiple rules, and you can write your own rules as well. Open this file in your favorite text editor vim, vi, leafpad and delete the username and the following colon. This can be done through a python script called hint: you can use the hashes extracted through this script also with john the ripper.
Next
Cracking iTunes Backup Passwords with hashcat « absoluthoppr.com
After that, I use a mask with a custom charset. Then converted to the right format depending on the captured method and moved over to the Windows client to be cracked. Feel free to share this article. That is the ability to crack Microsoft Office password hashes across all different versions 97-2003, 2007, 2010, 2013. My Setup My setup is simple. In the meantime take a look here if you are interested, and happy hacking! HashKiller's purpose is to serve as a meeting place for computer hobbyists, security researchers and penetration testers.
Next
How to guide for cracking Password Hashes with Hashcat using dictionary method
Hash Cracking, Hash Cracker, bcrypt cracking cracker, joomla cracking cracker. For instance, if a company allows an all-numeric character set, choose to crack the hashes with just numbers. The current version with this bug is libimobiledevice 1. Well, by the end of this guide, you will never forget the basics. When password dumps happen, those password are thrown out on pastebin and then archived for all time.
Next
How To Crack WPA/WPA2 Hash Using HashCat
To accomplish this, I download the zip of the repository, extracted extracted the Passwords folder, and then in a terminal navigated to the Passwords folder. If you cannot get it to work, you can try the instead. We can see that this file starts with the username, i. No the program is loaded into memory anyway. The next tool is airodum-ng which enables us to capture packets of our specifications.
Next